Poloz Rate Hike Had A Hawkish Tone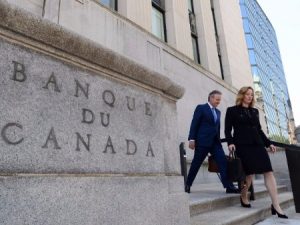 As was universally expected, the Bank of Canada's Governing Council hiked overnight rates this morning by 25 basis points taking the benchmark yield to 1-3/4%. This marked the fifth rate increase since the current tightening phase began in July 2017 (see chart below). The central bank stated it would return the overnight rate to a neutral stance, dropping the word 'gradually' that was used to describe the upward progression in yields since this process began. Market watchers will certainly note this omission. For the first time in years, the Bank has acknowledged it expects to remove monetary stimulus from the economy entirely.
So what is the neutral overnight rate? According to today's Monetary Policy Report (MPR), "the neutral nominal policy rate is defined as the real rate consistent with output sustainably at its potential level and inflation equal to target, on an ongoing basis, plus 2% for the inflation target. It is a medium- to long-term equilibrium concept." For Canada, the neutral rate is estimated to be between 2.5% and 3.5%, which implies that at a minimum, three more 25 basis point rate hikes are likely over the next year or so.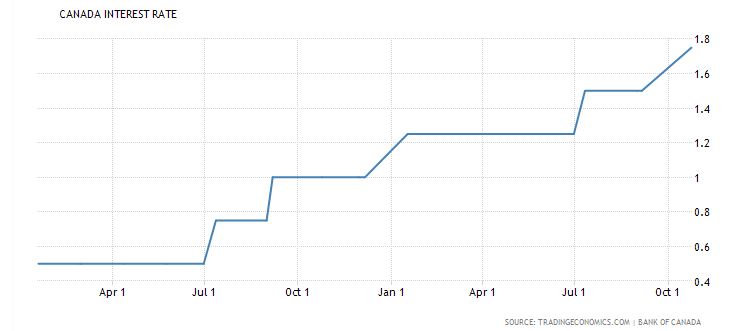 The Bank of Canada emphasized that the global economic outlook remains solid and that the U.S. economy is particularly robust, but is expected to moderate as U.S.-China trade tensions weigh on growth and commodity prices. The new U.S.-Mexico-Canada Agreement (USMCA) eliminated a good deal of uncertainty for Canadian exports, which will reignite business confidence and investment. Business investment and exports have been of concern in recent quarters, and the Bank is now looking towards a resurgence in these sectors, augmented by the recently-approved liquid natural gas project in British Columbia.
A continuing concern, however, is the decline in Canadian oil prices. Western Canada Select (WCS), a local blend that represents about half of Canada's crude oil exports, has declined about 60% since July as global oil prices have risen (see chart below). WCS plunged below US$20 a barrel last week posting the biggest discount to West Texas Intermediate (WTI) on record in Bloomberg data back to 2008. WCS generally tracks heavy oil from Canada, which typically trades at a discount to WTI because of quality issues as well as the cost of transport from Alberta to the refineries in the U.S.
Canadian pipelines are already filled to the brim. The inability of the Canadian oil industry to build a major pipeline from Alberta to either the U.S. or the Pacific Ocean is increasingly dragging down domestic oil prices. Oil-by-rail shipments to the U.S. are at an all-time high, but this is an expensive and potentially unsafe option and precludes Canadian oil exports to China and Japan.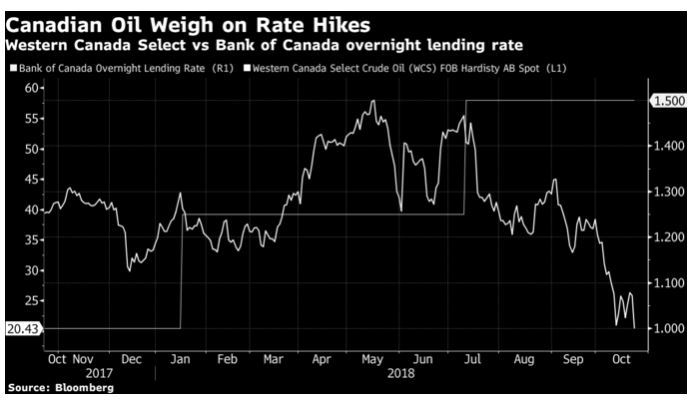 An even broader concern is the impact of higher interest rates on debt-laden consumers. The Bank is well aware of the risks, as the MPR cited that "consumption is projected to grow at a healthy pace, although the pace of spending gradually slows in response to rising interest rates… Higher mortgage rates and the changes to mortgage guidelines are affecting the dynamics of housing activity. Housing resales responded quickly to the new mortgage guidelines, and the level of resale activity is expected to continue on a lower trajectory than before the changes. New home construction is shifting toward smaller units, although stronger population growth is estimated to raise fundamental demand for housing."
Household credit growth has slowed, and the share of new mortgages with high loan-to-income ratios has fallen. The ratio of household debt to income has levelled off and is expected to edge downward (see chart below).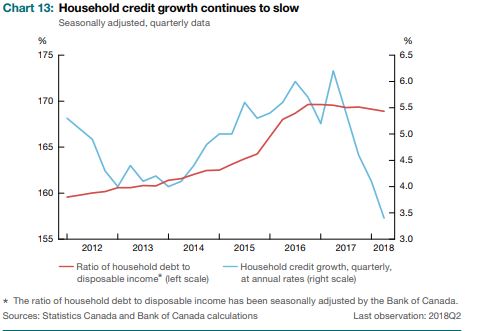 Low-ratio mortgage originations declined by about 15% in the second quarter of 2018 relative to the same quarter in 2017 (see charts below). The MPR shows that "while activity fell for all categories of borrowers, the drop was more pronounced for those with a loan-to-income ratio above 450%, leading to a decline in the number of new highly indebted households".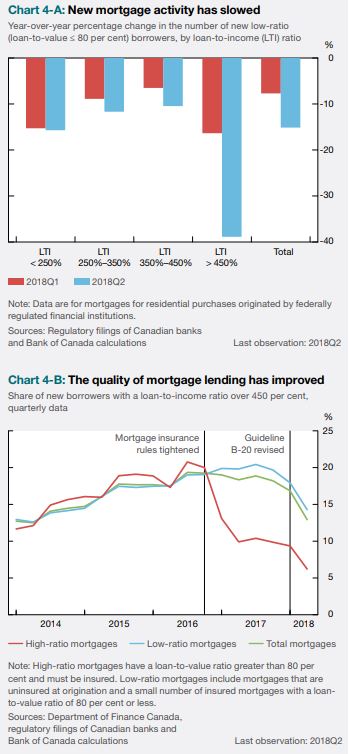 Bottom Line: The Bank of Canada believes the economy will grow about 2% per year in 2018, 2019 and 2020, in line with their upwardly revised estimate of potential growth of 1.9%. The Bank asserts that mortgage tightening measures of the past two years have "reduced household vulnerabilities," although the "sheer size of the outstanding debt means that vulnerability will persist for some time". That is Bank of Canada doublespeak. What it means is expect three more rate hikes by the end of next year.